Kosova Makers League begins the implementation of the
"

Creative Challenge – Breathe Data

"

project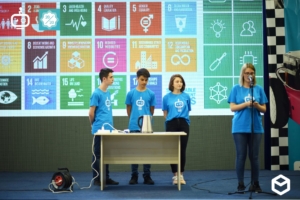 CREATIVE CHALLENGE– BREATH DATA
CREATIVE CHALLENGE – BREATHE DATA is a project designed for high school students. This project is a combination of education, technology and raising awareness on air quality in the country.
The purpose of this competition is to create a healthy atmosphere, where young people will learn about technology. Using technological equipment creatively students will make proposals on improving the air quality in Kosovo and they will raise awareness in their community.
For a year in "Creative Challenge-Breathe Data", students will do research on air quality, collect data, and analyze them.
Using technological equipment such as Arduino Kit and IoT Kit, students will build air quality  onitoring stations in their municipalities.
The final solution of this project results in the generation of an online platform that will provide data from all stations built (more than 40 stations) by translating them into a simple educational version understood by the public. The extension of this platform will result in the generation of informative data on the air quality situation and the preventive measures / interventions that citizens and relevant institutions in Kosovo need to take.
This project involves 44 high schools, and about 50 teams from 22 municipalities in Kosovo. While the composition of a team consists of one teacher + 4 students, this project is expected to benefit about 250 students, 60 high school teachers and the entire community in these municipalities.